10/14/09
I have to applaud this designer for his creative wackiness! Wonsik Chae had a concept to let "light forms flow easily"… His 'Lighting Bag' resembles a Lipton tea bag (except for the tag at the end of the string that says "Draw a Light" ). But immerse this bag in water, and magically, a fluorescence appears and starts to glow. Once the "tea" bag is immersed in the fluid, the contained "fluorescent molecules" catalyze with the liquid medium to let loose a steady stream of liquid light. The effect is very like that of amber tea streaming from a newly wet bag. It can then be used to create liquid light in any form the user pleases!
http://www.onesik.com/Lighting-bag2.html
The Philips Bio Tower is one of many in line with the trend of urbanites going to the farm and farms coming to the cities. The BioTower is a self-contained farm that produces a five level slice of a farm:
Levels 1 and 2: Plants
Level 3: Algae
Level 4: Fish and Shrimp
Level 5: Organic Waste
Benjamin Moore paints predicts color trends 2 years in advance. This year's Color Pulse 2011 featured BALANCE as an attribute that we can all strive to better incorporate into our lives. From the rural influences to urban application, BALANCE is supported by 4 themes for COLOR PULSE 2011: The Farm, Order, Escape, and Tribe.
The farm colors selected were earthy browns, milky whites and pale, buttery yellows. Hay and terra cotta mix with accent hues straight from fresh veggies such as pumpkin, tomato, eggplant and, of course, green. They all have a soft, organic tones.
Beyond pure color, life on the farm includes fabrics suggesting the handmade. Benjamin Moore forecasters suggest we'll see macramé, irregular knits, gingham and burlap. Tea-stained effects, tie-dyes and hand-stenciled patterns all suggest a desire to appreciate the simple things in life; getting back to basics.
In my neck of the woods, BrightFarm Systems, a commercial design consultancy providing technical services in support of rooftop greenhouses and building integrated agriculture, has created the floating barge farm in Yonkers, NY on the Hudson River. The company's team presents a unique expertise in sustainable engineering, horticultural science, and ecological system design focused exclusively on the application of controlled environment agriculture to the built environment.

The barge hosts a carbon-neutral hydroponic farm. The floating laboratory produces tomatoes, cucumbers, lettuce, strawberries and pumpkins all while docked in the Hudson River which is also being used as an educational tool in collaboration with New York Sun Works. The project incorporates solar and wind power, biofuels, and rainwater reclamation while producing no carbon emissions or wastes. It saves even more energy by reducing the food miles (the distance food travels from field to table) of fresh produce for city dwellers.
Also, this month Dwell Magazine featured many farmhouse and cabin retreats for urban dwellers across the country. One of the features was the Yum Yum farm in Iowa, designed by Deforest Architects in Seattle, Washington. The owners set out to build a homestead for their future organic farm that was clean and modern, yet evoked a traditional farmhouse design. The stunning outcome of their process is show in the photos below!
http://www.yumyumfarm.blogspot.com/
09/28/09
The healthcare designers at Anshen & Allen have teamed up with the International Facility Management Association's Health Care Council to design the "Green Patient Lab". The room is a traveling exhibit that displays how easily and effectively sustainable practices can be applied in the healthcare setting. Historically, hospitals and other healthcare facilities have been slow to catch up to the green movement because of their 24-hour-a-day operating schedule and need for highly durable and cleanable materials.

Finally, the need for natural materials and energy efficiency has taken hold. The Green Patient Lab proves that sustainable design can improve patient care, increase efficiency, and reduce the anxiety of medical staff, patients, and families. The 400-sq.-ft. room displays materials and technologies that are economically viable, readily available, and appropriate for use in intensive healthcare settings. Placards throughout describe the design decisions and the benefits of each. Many strategies draw on the principles of evidence-based design, reflecting research into the ways that healthcare architecture and interior design can improve medical outcomes, financial performance, and consumer satisfaction. Visitors to the exhibit have the opportunity to give feedback by filling out a survey.
The Green Patient Room takes practical, cost-effective steps to reduce resource consumption while improving patient health. Low-flow rate laminar flow faucets, showerheads, and toilets minimize water consumption. High-performance lighting, glass, and insulation systems, along with extensive use of natural lighting, cut energy costs. Non-toxic materials low in VOC emissions are used throughout to improve air quality and speed patient recovery.


The room is organized into three zones: patient, family, and staff. Each area is meant to improve patient care by increasing comfort and minimizing disorder and stress. The patient zone, which includes the bathroom and much of the bedroom, is designed to give patients as much control over their environment as possible. Potentially intimidating medical equipment is discreetly located on one side of the bed, easily accessible to medical staff yet out of sight of patients and their families.
The family zone is designed to encourage family stays, in response to studies showing that families who visit frequently and stay longer are more involved in patient care, helping to improve patient well-being and facilitate healing. Reminiscent of a living room, this family space includes a sleeper sofa, television, desktop space, and other amenities.
The staff zone is organized to accommodate staff workflow and offer better access to equipment by reducing clutter and improving lighting, thereby helping minimize injury and medical error. A dedicated work area provides electronic charting, a hand-washing sink, and desk space.
This room also features an outdoor terrace with seating area, coffee table, and plants. A terrace may be difficult to incorporate in many healthcare settings, because of regulations, safety, buildings codes, and conventional construction practices, but it illustrates the benefits of connecting patients to the outdoors. Studies show that patients with views to nature heal more quickly. The low-wall displacement ventilation system is also uncommon in the United States, but reduces energy use and improves indoor air quality.
http://www.anshen.com/data/ideas/Greening%20Patient%20Experience%20brochure.pdf
09/24/09
Daniel Libeskind, architect renowned for his designs at the Jewish Museum in Berlin, the Denver Art Musuem and the World Trade Center site in New York, has taken on a new project. He is designing bold and exciting pre-fabricated housing with the dramatic angles of a prism. While most architects working on pre-fabricated housing have used small footprints and conservative budgets in order to make their designs easy to mass produce, Libeskind has taken a different approach. He has created a 5,500-square-foot, two-story villa which can be shipped and assembled anywhere. It includes luxuries like a solar thermal system, 12 foot-tall rain shower, a fireplace room, a wine cellar and a sauna in the basement. The homes will cost $2.8 million to $4.2 million, depending on the destination. Buyers of these homes will be promised regional exclusivity to ensure that they will be the only ones in their neighborhood with the design.
"Too often we celebrate great civic institutions," Mr. Libeskind continued, "but actually architecture is how people live and how well they live." The house is built of wood construction and clad in aluminum with zinc accent strips that the buyer can specify from 2 color options. For finishings, buyers can choose between a highly stylized, Libeskind interior, or the "casual style," which showcases warmer finishes like parquet floors and softer lighting.
http://www.daniel-libeskind.com/projects/show-all/the-villa-libeskind-signature-series/
If you are looking for a dose of design on a beautiful September day and haven't yet seen the High Line in NYC, then this is your chance! The High Line is a public park promenade constructed on the remnants of a railway built in the 1930's that runs 30 feet above Manhattan between 10th and 11th Avenues, from 34th Street to Gansevoort Street in the meatpacking district. The first phase opened to the public June 9, 2009.
The design, lead by, Principal in charge James Corner of Field Operations, and architectural team, Diller Scofidio + Renfro, is meant to be a retreat from the hustle and bustle of the city to a floating green space with views of the Hudson River. The design keeps the "romance in ruins" by maintaining some elements of its gritty past such as railroad ties and graffiti art among the grasses and trees. The designers used the remnants to create special moments along the walk to stop and take in the history of the site by using the railroad tracks to create movable benches that slide along the rails to create intimate groups or using the old train shed windows to make a beautiful peice of art glass.
The first portion of the three-section High Line, which runs near the Hudson River from Gansevoort Street to West 20th Street, will be open daily from 7 a.m. to 10 p.m. There are entrances at Gansevoort Street (stairs) and at 16th Street (elevator); exits are located every few blocks.
The second phase, which extends to 30th Street, is under construction and expected to be completed by fall 2010. The third phase, up to 34th Street, has yet to be approved.The project has already transformed the area near its 22-block stretch near the river, prompting some of the most ambitious development in the city in years.
http://www.nytimes.com/interactive/2009/06/08/arts/design/20090608_HIGHLINEPANO_INTERACTIVE.html
http://www.thehighline.org/events/all/2009/9
http://www.dillerscofidio.com/
06/17/09
You thought dining while nested high up in a tree was for the birds? Think again. New Zealand based Pacific Environments Architects Ltd. has designed a beautiful dining pod for the Yellow Treehouse Restaurant perched in a redwood tree. The Yellow Pages approached Pacific Environments to design the treehouse, and PEL jumped at the chance. "The tree-house concept is reminiscent of childhood dreams and playtime, fairy stories of enchantment and imagination. It's the treehouse we all dreamed of as children but could only do as an adult fantasy." The backdrop is a rise near the edge of a wood overlooking a stream. The eighteen seat cafe—10m wide and 12m high, with kitchen and lavatories on the ground.
The treehouse project is part of a large-scale marketing effort by Yellow Pages to promote their services. The campaign includes a spokes-model, blog, live webcam, contests and more.
http://www.pacificenvironments.co.nz/
http://www.yellowtreehouse.co.nz/#
06/16/09
Art All Night in Trenton, NJ is fast approaching! Each year, the historic 50,000 square foot Roebling Machine shop that manufactured the cables used to construct the Brooklyn Bridge, is converted into a 24-hour visual and performing art event.
It is happening this Saturday, June 20th starting at 3pm and running continuously until 3pm on Sunday, June 21st which is the summer solstice and the longest day of the year!
It is free to attend or submit art and this year, it is featuring a Petcha-Kutcha style presentation called MeSH 575 where designers, artists and other creatives share innovative ideas through interatctive presentations of 17 slides in 5 minutes each from 10:30pm-1:00am.
There will also be live music, DJ's, yoga, food, children's activities, lectures, films, glass blowing and much more!
http://www.artworkstrenton.org/artallnight/
06/08/09
Appologies for the long delay between posts. I have been renovating a house and studying for the LEED exam. Luckily, I passed the exam and can now say that I am a LEED Accredited Professional. On top of that, I found out that I am expecting my first child. So, appropos to this news, I have become interested in what "green" baby products are available on the market.
Welcome the little one home with this wonderful gift basket from Green Depot. It includes adorable onesies made of organically-grown cotton that are sewn in Pennsylvania, organic cotton receiving blanket, and a thermal hat. Also included is the classic Earnest Efforts baby rattle made from unstained remnant woods, hand-sanded, and finished with all-natural beeswax.
http://www.greendepot.com/greendepot/dept.asp?dept_id=3000&s_id=0
These beautifully designed rattles are the organic teething remedy from Little Alouette. Natural wood toys are a better alternative to plastic toys for baby teething since they are free of any extraneous chemicals. Each 5 inch rattle teether is filled with beans that makes a gentle (and not annoying) sound. They are finished with certified organic seed oil!
http://www.etsy.com/view_listing.php?listing_id=26152776&ref=sr_gallery_1&&ga_search_query=littlealouette&ga_search_type=handmade&ga_page=&order=date_desc&includes[]=tags&includes[]=title
Give the baby a good start with a nursery fit out with this customizable crib from MUU. It is made in the USA, ensuring local manufacturing for quality and safety, and reduces the impact on the environment. They believe that making furniture here means less energy is consumed transporting the product to you. By designing furniture to meet your evolving needs, from nursery to playroom to your own modern bedroom, we reduce your need to buy more stuff. The crib can be easily transformed to a toddler bed and the panels are interchangable for different colors and designs. The cribs are built using locally-sourced hardwood from verified sustainable sources and MDF made from certified environmentally-friendly recycled wood fibers. Our products are finished with non-toxic lacquer.
03/26/09
In honor of today being the birthday of quesited's founder, Patti, I am featuring the design of one of her favorite things: beautiful perfume bottles! Consistently, some of my favorite designs have come from the fashion house of Issey Miyake.

Le Feu D'Issey was the first perfume I purchase entirely for the packaging and fell in love with the scent second. Unfortunately, this bottle was discontinued because the unique design did not sell in mass quantities. The glass bottle is protected in a rubbery red sphere that appears designed to evoke a techno version of the poison apple from the Sleeping Beauty fairytale. The atomizer travels along a channel to reveal or cover the opening.

Shiro Kuramata's perfume bottle for Issey Miyake is an innovative bottle in a limited edition, posthumously released almost 20 years after Kuramata's death. When it was designed in 1990, the manufacturing techniques didn't allow for a perfect sphere to be cut into a cube. The design collaboration between arguably two of Japan's most creative minds created a vision of "an oversized drop of water and a condensed version of the earth with visions of flowers and dreams, light and wind, men and women dancing a rondo inside." That is a tall order to pack into one tiny perfume bottle!
2,500 bottles have been made thanks to the development of laser technology, a perfect sphere has been cut into a cube of glass and polished, achieving the 'absolute purity' Kuramata intended with his original drawings.
The limited release of a design that could have been consigned to the history books without ever having been made is reason enough to raise its value. But given the technical precision of the design, Kuramata's 'ahead-of-his-time' thinking and the timeless appeal of the object itself, we would recommend you keep the bottle long after the perfume's finished.
Kuramata's original drawings for the perfume bottle from 1990
http://www.isseymiyakeparfums.com
03/12/09
Spring is almost here and you know what that means…DESIGN EVENTS GALORE! Three of my perennial favorites are in NYC this year and are listed below. Hope to see you there!
The first to kick off is Lightfair International. There are illuminating classes available from May 3rd to 4th and a tradeshow from May 5th-7th displays everything the lighting market has to offer from the most efficient new technologies to imaginative decorative fixtures.
Next up is the 7th annual BKLYN DESIGNS. This year's showcase will include a specially curated "green" exhibition at the BSH Showroom, a children's furniture off-site located at Jane's Carousel, as well as multiple design related evening festivities at hot spots across DUMBO. Sign up for the mailing list to receive updates and reminders about the 2009 show scheduled for May 8-10!
To finish off a fun-filled tour of design, visit ICFF International Contemporary Furniture Fair May 16th-19th at Jacob K. Javits Convention Center in New York City. This is where the world displays the most current and exciting furniture designs. Plan on staying the whole day!
03/02/09
A friend and very talented designer, Ben Mickus has been designing furniture in his free time. His cleverly named, Relief Chair will be featured in an exhibition at the Cooper Hewitt National Design Museum in New York. The exhibition is called "Fashioning Felt" and will be on display from March 6th through September 7th of this year.
I put an emphasis on free time as Ben is a full time architectural designer for Diller, Scofidio & Renfro. It is a busy month for my friend Ben, as a project he has invested a few years of his time in is coming to fruition. He has been a part of the design team working on the renovations to Lincoln Center. Alice Tully Hall opened mid February to rave reviews. The interior features stellar acoustics and sensuous interiors. The original proportions have not changed, but its smooth surfaces have been clad in a translucent veneer of moabi, a rich African hardwood with LED lights embedded behind the wood that can be subtly adjusted so patches of the wood's surface begin to glow, shifting from pale orange to magma red.
http://www.mickusprojects.com/
http://www.cooperhewitt.org/EXHIBITIONS/Fashioning-Felt/
http://www.nytimes.com/2009/02/20/arts/design/20tull.html
http://www.dillerscofidio.com/
02/25/09
Fashion week in NY brought some fresh new ideas for Fall '09 including a new collection from Rachel Comey. Her designs take inspriation from vintage styles through modern rock stars like David Bowie. She started her own label after leaving a job at Theory and designing one-of-a-kind meanswear pieces for friends. The label got national recognition when David Bowie wore one of her shirts on The Late Show with David Letterman. She then expanded her line into women's wear. She is a native New Englander with a sculpting degree from the University of Vermont. She brings her art backgroud with her, as she seems to sculpt the fabric around the body.

02/19/09
So, you think you don't have enough storage space? Gary Chang, a Hong Kong architect, has all of the modern luxuries one could desire in a 350 square foot apartment. Because of his innovative use of accordion-like wall units, he can create at least 24 different room configurations! Simply by shifting the walls around, he can create a kitchen, library, laundry room, dressing room, lounge with a hammock, and a dining room with a wet bar. Behind one movable wall of shelving is an extra-large Duravit bathtub. A glass shower stall doubles as a steamroom with color therapy and massage and a Toto toilet has a heated seat and remote control bidet. The yellow tinted glass on the exterior creates a mysterious glow in the space and adds plenty of color through the light rather than painted walls. He also has a wall of CDs and a six speaker sound system that lets him enjoy listening to his collection. Mr. Chang uses a hydraulic Murphy bed of his own design, hidden behind a sofa during the day.
Photo: Marcel Lam for The New York Times
02/12/09
Watt is the world's first sustainable nightclub. Studio Roosegaarde in Rotterdam, Holland, designed the Sustainable Dance Floor which is created by 2 foot square modules made of sustainable materials, a energy harvesting mechanism, software and embedded electronics. Each panel produces up to 20 Watts. The panels are spring mounted and as vabrations are created by a dancing crowd, energy is created to illuminated the colorful LED lights below and supply the DJ console with energy. See it in action @ http://www.studioroosegaarde.net/videos/SDF-Studio.
Average nightclubs use up to to 150 times the amount of a normal household. Club Watt aims to use 30% less! Watt is in the concept materialized about a year ago by a group of Dutch ecological inventors, engineers and investors. Watt is a huge performance space with not just the sustainable dance floor, but also rainwater-fed toilets and low-waste bars. (Everything is recycled.) Its heat is harvested in part from the bands' amplifiers and other musical equipment. Eco-hedonism is personified here proving that being eco friendly no longer means you have to sacrifice your lifestyle!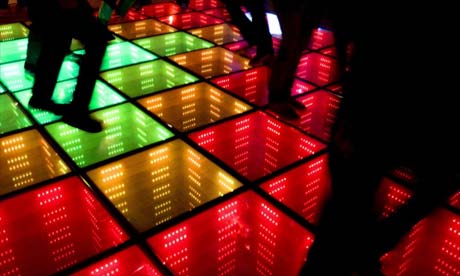 http://www.studioroosegaarde.net/
02/09/09
The law firm, Thompson Wigdor & Gilly (TWG) needed a new face. After spending years in an office in the Empire State Building, they moved a block from Union Square in Manhattan. They selected an 8,000 square foot loft space. They felt they needed to connect more directly with their diverse clientele that includes top chefs, and bold names in entertainment and sports. They wanted their space to make a statement about them that was as "dynamic, agressive, independent and successful" as their thinking.
In order to accomplish this, they hired Studio Tractor Architecture of Williamsburg, Brooklyn. They created a stunning reception desk with an electric blue LED panel on the front which mimics the firm's logo color. Frosted glass partitions the offices, conference rooms, and kitchen-cafeteria area. The glass allows natural light to flow through the space and gives reference to people moving through the space while allowing visual privacy. TWG got the look they wanted to present to clients, along with pleasing effects on the staff.

Scott Browning Gilly, one of TWG's 3 partners said, "I didn't foresee the impact on how the office functions, how people approach their jobs and each other and the collegial interaction; they don't feel like thier punching a clock."
Photos courtesy of: http://www.nytimes.com/2009/01/11/realestate/commercial/11sqft.html?_r=1
Disney recent updated its 1950s vision of domestic utopia for the 21st century. The original house was designed by MIT in cooperation with Monsanto, a company that produced the artificial sweetener, saccharin, until the mid 1960's. This was the dawn of the ear of thermoplastics when 30% of the company's output was in synthetic resins and surface coatings. As a result, the home design revolved around using plastics inside and out.

It's worth noting how times change, when in today's market, 'plastic' is a dirty word and green options and recycled plastics is the name of the game! However, the properties of plastic represented the future to the designers at the time because of it's pliable, flexible nature which could create an infinite number of forms. The structure was comprised four floating fiberglass-reinforced polyester wings with large thermal-pane windows which was a completely original design.

The House of the Future was advertised as a 100 % synthetic environment in which, in classic 1950's style: mother and daughter cooked, the son played in his room, and father lounged on a flexible sofa while reading the newspaper or listening to the hi-fi. It is also interesting to note that no one was watching TV. Again, what a change that is from today's households that are so focused around TV watching and computer use with an on-the-go family of constantly shifting roles. On one wall, a non-operational large flat screen hinted at the not-too-distant future.
Forty years after it was deconstructed, the House of the Future opened it's doors again in Disneyland's old Carousel Theatre. In contrast, the hearth of this home was the 100″ digital screen. All picture frames and artwork were displayed digitally and shift imagery depending on who enters the room. The kitchen counter has the ingredients to recipes projected on to it and the bathroom mirror acts like a digitally displayed catalog showing hairstyles, accessories, and clothing suggestions. The children's room also has a screen that reads books aloud with effects, colors videos, and sounds that correspond to the story.

The overarching idea is the create "interactive immersive experiences" linking technology more seamlessly into our lives.
Kitchen of the future 2008
Kitchen of the future 1959
For the complete article, visit: http://www.artinfo.com/news/story/30147/houses-of-the-future/?page=1
12/12/08
Budget hotels are reaching out on a limb.
The new Linden hotel, designed by Lang Architecture is located in an industrial area of Brooklyn called the East New York neighborhood. The Architect's Newspaper interviewed Drew Lang, the principal of Lang Architecture who stated, "I'd never thought of working in this section of Brooklyn, but if you share a vision with your client and your contractor, you can build good architecture almost anywhere."
The design incorporates translucent materials like polycarbonate panels, clear glass, expanded metal mesh, as well as stucco cladding that is meant to create a varied composition that responds to the daylight and therefore changes over the course of the day.
The designer and developer hope these and the unique design make the 30-room, budget hotel stand out from the competiton which uses the usual "loud roadside signage."
Multiverse, the largest and most complex light sculpture created by American artist Leo Villareal has been unveiled between the East and West Buildings of the National Gallery of Art in Washington D.C.
Villareal's work focuses on movement and light which is ideal for the concourse walkway that thousands of visitors pass through daily. The installation is on display until November 2009. Multiverse features approximately 41,000 computer-programmed LED (light-emitting diode) nodes that run through channels along the entire 200-foot-long space.
Once the appropriate hardware was installed in the existing architecture, the artist programmed sequences through his custom-designed software to create abstract configurations of light. His programming both instructs the lights and allows for an element of chance.
While it is possible that a pattern will repeat during a viewer's experience, it is highly unlikely. Still, the eye will seek patterns in the motion, a perceptual effect of the hypnotic trailing lights.
http://www.nga.gov/exhibitions/villarealinfo.shtm
12/10/08
Morgans Hotel Group will soon unveil its Modrian hotel in South Beach, FL designed by Marcel Wanders. The Dutch designer has designed what some are calling "a modern fantasy." You can escape to an oasis of lush gardens with an outdoor pool bar, private cabanas enveloped by curtains of living vines, and even an adult sandbox.
In addition, Wanders incorporated original furnishings developed in his own design studio, including his iconic Knotted Chair and a custom designed reception desk; covered in mirrored Bisazza tiles for the Agua Spa.
The Modrian also features the latest Jeffrey Chodorow Asia de Cuba restaurant, complete with a royal communal table, crystal chandeliers set within golden bells above the tables, and private dining gardens.
http://www.mondriansouthbeach.com/hotel.html
12/03/08
Two talented architectural designers from R.S. Granoff Architects in Greenwich, CT have taken different approaches to homes in New York's posh Hampton's region.
Irene Ioffe designed an approximately 9,000 square foot shingle style vacation residence in Bridgehampton. The interiors are bright and open with clean, classic architectural detailing. The shingle style is a uniquely American building type with shingle surfaces, stone foundations and wide porches. It is an organic design, growing out of the landscape with dramatic rooflines and irregular footprints. It has become a standard for New England waterfront real estate.
Vote for Irene's project in the Architectural Digest Magazine's Open Audition here:
http://www.architecturaldigest.com/architects/polls/week_2/open_audition
By contrast, Christian Calemmo has designed the NH2 residence in Northampton with aspirations to become a LEED certified home. NH2 is Christian's take on a modern farmhouse. This beautiful design is luxury with an environmental agenda brought to life. LEED for Homes is a rating system that promotes the design and construction of high-performance green homes.
A green home uses less energy, water and natural resources; creates less waste; and is healthier and more comfortable for the occupants. Benefits of a LEED home include lower energy and water bills; reduced greenhouse gas emissions; and less exposure to mold, mildew and other indoor toxins. The net cost of owning a LEED home is comparable to that of owning a conventional home.
For more information on how to have a green home, see The Green Home Guide: http://www.thegreenhomeguide.org/